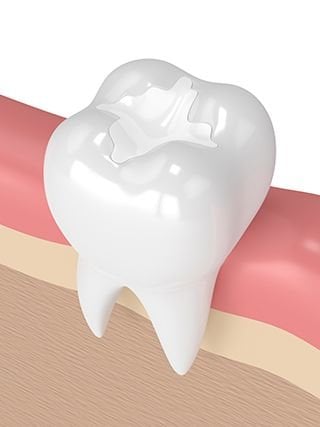 Fillings can be used to restore teeth with small to mid-sized cavities as well as minor chips, fractures, and wear. Tooth-colored fillings are a popular choice for restorations because they complement the natural beauty of a smile. Unlike traditional gold or silver fillings, tooth-colored fillings blend in with tooth enamel to restore decayed or damaged teeth almost invisibly.
While composite resin fillings are the most well-known option, porcelain and glass ionomer fillings are also unobtrusive choices for a dental restoration. The filling you choose will depend, in part, on the filling's size and location and the kind of filling you need.
Direct fillings are completed in one appointment. The filling is bonded to the tooth immediately after any decay is removed and the tooth is cleaned and prepped.
Indirect fillings take one of two forms: an inlay, which covers the surface of a molar inside the cusps, or an onlay, which covers the surface and at least one cusp.
After the tooth is free of decay, cleaned and prepped, an impression is taken of the tooth. The filling is created from this impression, and then bonded to the tooth during a second visit. Indirect fillings might also be used to repair small chips, fractures, and worn teeth.
Common Tooth-colored Restorations
Composite Resin Fillings
Made of acrylic resin mixed with powdered quartz, glass, or other ceramic particles, composite fillings can be used for both direct and indirect fillings. These are the most popular tooth-colored restorations.
Can be applied to the tooth immediately after preparation
Can be closely matched in color to tooth enamel
Harden quickly under a special curing light
Less expensive than porcelain fillings
Preserve more tooth structure than metal amalgams
Durable, but may not be as durable as porcelain or amalgam fillings for chewing surfaces
Insurance coverage can vary depending on the location of the filling
Porcelain/Ceramic Fillings
These indirect fillings are made of advanced ceramic materials, fabricated using an impression of the prepared tooth for a precise fit.
Most realistic looking because they are translucent as well as matched for color
Typically last longer than composite fillings, and less likely to chip or crack
More stain resistant than composite fillings
Usually require at least two appointments
More expensive than composite fillings
Glass Ionomer Fillings
Glass ionomer is a flexible paste made with silicate glass powder. Commonly used as a sealant or a cement for orthodontic brackets, glass ionomers can also be used in fillings.
The material bonds directly to the tooth itself
The glass powder can be formulated with fluoride, which is released over time for added anti-cavity protection
Resin-modified ionomers are available that harden more quickly
Don't always blend as well with natural tooth color
Less durable than other filling materials, so these fillings are better used in temporary fillings, to fill cavities along the gum line or other non-biting surfaces, or to fill baby teeth.
The size of a cavity, its location, cost considerations—these factors will all affect your choice of filling. Talk to your dentist to discover which tooth-colored option is best to protect the health and enhance the appearance of your smile.